Job interview – these two words can make the inexperienced's legs quiver and the experienced smile mysteriously.
If you're in the former group, you're surely wondering what you need to do to perform at your best and get the job you want. We won't lie, a job interview isn't easy. But don't worry too much, and find out how to prepare well!
Being prepared is key
A job interview can be really stressful. To calm down and control your emotions, the best thing to do is simply to prepare yourself well. It's not that difficult! Just focus on a few key points.
Get to know your potential employer
You should never, ever come to an interview without knowing anything about the company's business. This is because the recruiter may want to know what you know about the company. Failure to answer the question 'what do you know about our company?' may result in being eliminated from the recruitment process.
To avoid disappointment, read the company's website well in advance, and preferably also its profiles on LinkedIn and social networks. Find out: when it was founded, who its CEO is, how many people it employs, how many countries it operates in and, above all, what it does.
Prepare answers to typical recruitment questions
It is impossible to predict the entire course of a recruitment interview, but many of the questions asked during the interview are not a secret. By preparing your answers in advance, you will gain more confidence and ensure that what you say has really been thought through. What is worth thinking about?
Something about yourself – when talking about yourself, you should focus on the most important aspects of your education and career. Also mention the strengths and skills you have (language skills, teamwork, leadership skills). You will also make a great impression by talking about the value you can bring to the company. These types of questions are usually asked at the beginning of an interview and mainly aim to 'break the ice'.
Description of work experience – focus on your experience that is in some way related to the position you are applying for. An IT recruiter is unlikely to be interested in the fact that you worked in a coffee shop twenty years ago when you were a student (unless you can creatively articulate why that job prepared you for your potential future role).
Why do you want to work for our company? / Why would you like to work in this position? – if your main motivation for looking for a job is financial, an interview is not the best time to talk about this. Think about what else motivated you to send in your CV. Maybe the good atmosphere in the company? An interesting business model? The opportunity to gain international experience, do what you like, attend industry conferences?
Why do you want to change jobs? – When answering this question, you should certainly not criticise anyone (especially your current or former bosses or colleagues). The best you can do is to demonstrate that changing jobs is the next step in bringing you closer to your chosen career goal. Focus on the opportunities your new position offers you.
Why are you the right candidate for this position? – this question tests your confidence and awareness of your strengths. Refer to your education, experience and qualities that enable you to perform the job well.
Financial expectations – asking for an approximate satisfactory salary is stressful, especially for those who have no experience in the industry. This may be made easier by the salary range in the job ad, which you can then use as a guide. If you don't have this option, find out in advance what the rates are for similar positions in other companies in the city for people with your education and experience.
Don't forget your CV!
The recruiter you sit in front of during the interview has certainly taken the time to look at your CV. And while you also know what you've done in your life (if you've been completely honest on paper), you may forget the most important events due to stress. Therefore, read the prepared document before the meeting. You can also take it with you.
'Look the part'!
Dress smartly for an interview, even if you know that no dress code is required of you in the job. The professionalism emanating from you will greatly help to make the right first impression. Choose neutral colours, such as black, white, grey, navy blue, and an elegant cut (trousers, dress, suit, jacket, etc.). Preferably prepare your outfit the day before so you don't have to hurry to find any missing parts. Take care of your hair and nails as well.
First of all, don't be late.
Nothing will contribute to making a bad impression as much as being late for a recruitment interview. So do everything possible to prevent this from happening: check how to get to the meeting and leave home early enough.
Prepare your questions
The recruiter is not the only person who has the right to ask questions during the interview. Don't be afraid to find out more about your desired position! Not only will this help to clear up any doubts you may have, but you will also make a positive impression on the person on the other side of the table – showing commitment and interest. You can ask about responsibilities, the course of a typical day at work, opportunities for development, the manager's management style, the size of the team, what the next steps in the recruitment process look like… There are many possibilities.
Face to face with a recruiter
Here's the moment – you've just entered the room and a nice gentleman (or lady) greets you and points to your chair. You're stressed and excited, you feel well prepared, but you're still worried about whether you'll be able to make a good impression. Don't worry, we'll give you some tips on how to perform well.
Don't stress… excessively
Stress is a natural phenomenon and it's hard to eliminate it completely during a job interview. What's more, don't even try to think about it, as this will only lead to even more stress. Instead, focus on your breathing: breathe in and out, in and out, deeply and steadily. While waiting for your turn, listen to your favourite music or read part of an interesting book. Remember that it's never 'this job or no job'; it's just one of the many opportunities that await you.
Believe in yourself
Self-confidence works wonders. It wins people over and makes you seem more competent. Therefore, don't be afraid to talk about your strengths and the experience you have gained. After all, an interview is all about presenting yourself at your best. In addition, try to control your non-verbal communication; body language and facial expressions are just as important as what we say. Being composed and smiling will also help you achieve success in the meeting.
A lie has no legs
Therefore, don't lie! Even if your CV does not look very interesting at the moment, refrain from adding lies to it. Your declared knowledge of Vietnamese at B2 level or your ability to create websites in WordPress is easier to verify than you think. At a job interview, you may find the facts you slightly distorted when applying make you feel ashamed and lose you the job opportunity. And remember not to embellish your work experience. A prospective employer may want to verify with the source whether you really were employed by the company you listed.
The interview has come and gone
You've put your best foot forward, you're happy with how the interview went, the recruiter's words 'we'll be in touch with you' are echoing in your head, and you begin to calm down. What now? Above all, don't dwell too much on the meeting and don't analyse every look or gesture – it doesn't really matter anymore at this point. Instead, spend the rest of the day in a pleasant way (you deserve it!) and wait patiently. Remember to check your inbox (especially the darn SPAM folder) and answer your phone calls (even, or perhaps especially, from restricted numbers) every day. Good luck!
Job interview over the phone
Recently, many companies have decided to carry out the recruitment process (or part of it) over the phone or the internet. This is usually the first stage intended to show whether the candidate is suitable for the position. This new form of meeting may seem intimidating, but believe it or not, it is not that different from the traditional form. You just need to keep a few things in mind.
Convenient date
An invitation to an interview may come by email, but usually the recruiter will simply call you. Don't be afraid to answer calls from unknown numbers! If you don't manage to pick it up on time, don't worry – the employer understands that you are not available all the time. Once you've made the first contact, arrange a convenient time to meet. You will usually need about 30 minutes for this.
The right place
The telephone interview should be held in a quiet place where you will not be exposed to unnecessary distractions. This could be at home, a quiet café or any other place where you feel comfortable. Also, make sure your phone's reception is good enough (and that you have informed your household members that you are busy).
Make yourself understood
The telephone can generate some communication problems that would not arise during a standard interview. Don't forget that the person on the other end of the phone cannot see you, so you don't have the opportunity to explain something with gestures or facial expressions – words must suffice. Therefore, speak slowly and clearly, and don't be afraid to talk about technical problems! Also, do not interrupt the speaker and do not overuse such expressions as: 'uh-huh', 'hmm', 'aha'.
Job interview over the internet
This type of interview combines elements of a telephone call and a traditional job interview. On the one hand, you have a slightly easier task because you can see the recruiter and can use facial expressions and gestures; on the other hand, you are vulnerable to technical problems.
Make sure that your internet connection is fast enough, that your headphones and camera are working and that the household members know not to disturb you (e.g. by passing quickly behind your back). Choose a place where you will have adequate lighting so the person on the other side can see you well. Remember to dress appropriately (not only the top part of your outfit should be appropriate!) and have a neat hairstyle. If there are any technical problems, let the recruiter know!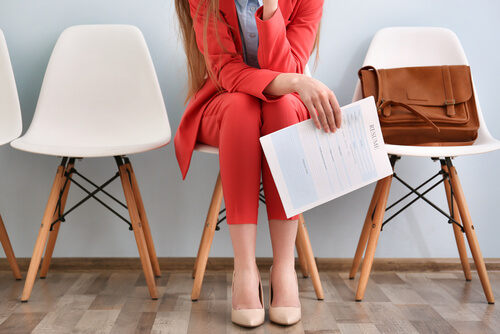 Job interview in English
Communication skills in English are nowadays one of the basic skills required for employment in multinational companies. This is due, for example, to the need to use it while performing your job. Therefore, you should not be surprised if you are asked to have a short or longer conversation in English during a job interview. What can you expect?
Tell me about yourself
As in the Polish version, this question is mainly aimed at putting the candidate at ease and starting the interview in a positive way. The best approach is to talk about your education, work experience, strengths and skills. You can use the following phrases for this purpose:
I recently graduated in (name of field of study).
After obtaining my bachelor's degree in (name of field of study), I have started to study for a master's degree in (name of field of study).
While at university, I participated in an Erasmus exchange in (name of the city/country).
I don't have a lot of work experience; however, I am really motivated and eager to learn.
I have been in the (name of industry) industry for (number of years).
I have worked in a similar position before for (name of the company).
My most recent experience has been… (description of recent work experience).
Working for (company name) has been a challenging experience, which has really helped me to grow professionally.
In my previous position, I proved to be a good team player and a creative problem-solver.
In my last job, I contributed to (significant company achievement).
I would like to continue my career in (industry).
What do you know about our company?
You have done your research and know a little about your potential employer. Now all you need to do is talk about it in proper English. If you feel like it, you can 'borrow' any of the following phrases:
Your company has been a top player in (industry name) since (year).
Your headquarters is located in (city) but your offices are present in many major cities across Europe.
(company name) is a global company whose mission is to (company mission).
Your company values are (company values).
Why would you like to work for our company?
Before the interview, it's worth thinking of some good answers to this question. If nothing comes to mind, have a look at the suggestions below:
I see working for your company as an opportunity to contribute to an exciting industry.
I believe my skills (your skills) are particularly useful to this position because (reason).
This job opportunity would allow me to achieve my personal and professional goals.
I am confident that I have the right type of skills to succeed in this role.
Useful words and phrases
Regardless of the industry you plan to work in, the following words and phrases below may prove useful during your interview in English. Take a look at them and make sure you are familiar with them:
Skills
Strengths
Knowledge
Weaknesses
Resume
Motivation letter
Leadership
Flexibility
Analytical thinking
I am eager to learn.
I am customer-oriented.
I have great attention to detail.
I always present a can-do attitude.
I am good at multitasking.
What do you do if you 'lose your tongue'?
The feeling of forgetting a word in a foreign language is daunting, but don't let it ruin your chances. And don't speak Polish! Take a deep breath, say: I am sorry, I am a little stressed, and start the sentence from the beginning. The recruiter knows you're not a native speaker, especially if you've included a communicative level of English in your CV. Try to convey your thought in a different way, even if you have to use a lot of words to do so.
It may also happen that you don't understand (or can't hear) something the recruiter has said. Don't be afraid to ask him or her to repeat (I am sorry, I am not sure if I heard you right. Could you repeat it, please?). It is better to do this than to try to guess the meaning and give an answer you are not sure of. If, after asking the question again, you already know that a word makes it difficult for you to guess the question's meaning, don't give up. Ask the recruiter to rephrase it: I don't quite understand. Could you rephrase the question, please?
Stress has caused a void in your head and you can't string together any meaningful answer to a recruiter's question? Tell him or her: Excuse me, I am feeling a little stressed right now. Do you mind repeating your question, please? Talking about your emotions helps you to calm down, and asking the recruiter to repeat the question gives you a moment to collect your thoughts.
Is your job interview tomorrow?
Relax today as much as possible. After reading this article, you are certainly well prepared. Remember that by stressing today, you don't increase your chances of making a positive first impression. Good luck!
If instead of being a candidate, you are on the other side of the table and are looking for a way to make your life easier when it comes to checking the language skills of potential employees, take a look at our Focus Audit Tool. It will enable you to quickly and comprehensively conduct a language audit in over 30 languages. The results of the exam are available immediately or after 24/48 hours.